Astrology and the Lives of People
Finding Compassion, Character, and Heroism in the Horoscope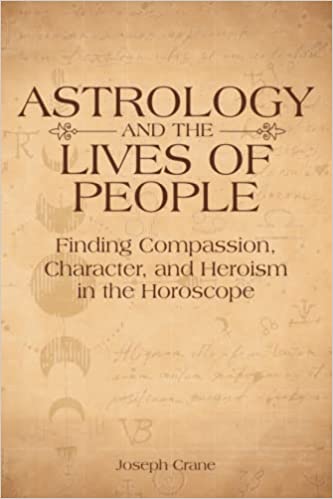 Taken together, the luminaries and five planets express a totality of our human nature and life concerns: our failings and deceptions, the changing conditions of our lives, and our possibilities for living abundantly. They account for both personal uniqueness and our lives as connected to the larger world. How have the original significance of these planets been reduced in modern astrology and at what cost? By reclaiming and redeveloping the significance of these seven planetary bodies, astrology can become more relevant to the real issues that people have. This book gives fascinating background on the development of these planets in the pre-modern world, as well as exploring new ways their traditions can be looked at today. Joseph Crane's scholarship and profound reverence for the importance of virtue and character in our troubled world is evident in his exploration of solar and lunar heroism, wisdom, friendship, and love, and his discussion of how to find these qualities in the natal chart. Wisdom seekers and astrologers of all kinds, looking to deepen their understanding and practice, will find this book a worthy guide.
I wrote this during a time of cultural instability and pandemic. I look at the development of astrology's visible planets, features of ancient and contemporary psychology, and applying both to the charts of well-known and (often but not always) exemplary individuals.  This leads to astrological discussions of will and desire, intellect and common sense, friendship and transcendence. In my writing life this is the work of which I am the most confident and proud.
Support your local bookstore!